Transferencia de datos 10x más rápido con USB 3.0s.
La forma más compacta de añadir gigas a tu bolsillo. Este disco duro USB 3.0 de 16, 32, 64 o 128 GB puede ser acoplado fácilmente a cualquier KeySmart. El disco tiene una carcasa de aluminio que es a la vez estilizada y lisa y, lo que es más importante, que lo protege contra caídas y entornos hostiles.
Necesita 2 ranuras en todo KeySmart.
8, 16, or 64 GB USB 3.0 drive
¡Envío Gratis!
en pedidos para EE.UU sobre
$25.00 USD
•
Pedidos internacionales sobre
$45.00 USD
Customer Reviews
Filter Reviews:
keys
keysmart
keyring
quality
needs
item
light
Tile
solution
11/07/2019
Jonathan F.
United States
Definitely not "super fast"
The good: The 16 GB Kingston DTSE9 G2 looks really sleek and is made from durable metal. With the way I have my keys laid out in my keysmart it fits perfectly opposite the bottle opener. It took me a while to figure out how to best place the spacers and my keys to fit this blocky USB-A connector without having my keys protruding out the side. Once I had everything arranged the way I wanted it felt awesome to always have a storage device with my keys in a way that didn't feel clunky. The bad: It's painfully slow. I noticed this right away when I started copying files onto it. What's the point of putting a USB3 connector on it if it's not going to leverage the bandwidth? I tried booting Linux (Debian) off it and the system runs excruciatingly slow, almost unusably so. This makes it painful to consider replacing the 32 GB microcenter USB3 drive I carry now, even though this is much more convenient. So on summary, I love the packaging, even if for some it may be too bulky, but the overall speed is an absolute bummer. Given how this is specifically advertised for speed, I can't help but give it 2 stars.
11/06/2019
Charlie L.
Mexico
Very unsatisfied. I paid $25
Very unsatisfied. I paid $25 for a 3.0 16GB Keysmart brand USB Drive but instead, I received a Kingston brand USB Drive. If I would've want a Kingston one, I could've bought one for less than $10. I was planning to purchase a keysmart for my wife but it was such a rip off. I will be returning it, DO NOT BUY!!!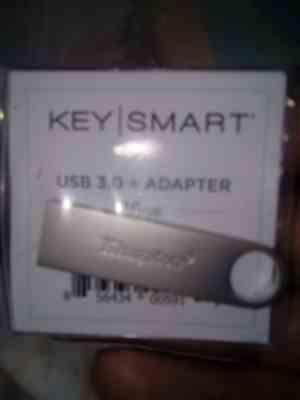 11/05/2019
JASON S.
United States
I like It
Easy to use and be nice to hold more keys.
11/05/2019
Andrej K.
Slovakia
Bad Shipping
I haven't gotten it yet :/.
11/05/2019
mike r.
United States
Key smart with tile rocks!
I'm loving my keys art with the time!
11/03/2019
Bill D.
United States
Better than expected
Inventor is creative with this product. Very useful for. Real Estate Owners with multiple property rentals and Maintenance crews. Additional perk/kudos to idea of having tile attached in case keys get lost. I'm satisfied